Hurricane Irma: Florida launches huge relief operation
Relief operations are under way in Florida, as the extent of the damage from Hurricane Irma is becoming clear.
The storm weakened as it moved up the state's western coast overnight but Miami and other urban areas have been battered and flooded.
Six million homes – 62% of the entire state – are without power. In the islands of the Florida Keys, officials have warned of a "humanitarian crisis".
Media reports link at least four deaths to the storm.
Irma, which hit Florida as a category four hurricane on Sunday, has now been downgraded to a tropical storm.
It cut a devastating track across Caribbean islands, killing at least 37 people there.
Florida Governor Rick Scott said it was "going to take some time" before people could return to their homes, the Miami Herald website reports.
Speaking as he went on an aerial tour of the Keys to survey the damage early on Monday, he said: "Power lines are down throughout the state. We've got roads that are impassable, so everybody's got to be patient as we work through this."
All eyes on the Keys
By Jane O'Brien, BBC News, Miami
Miami dodged a bullet by and large. The eye of the storm did not hit the city but it did wallop the Florida Keys, of course, and that is where the concern is now.
Communications were pretty bad even on Friday. A number of people who had fled the Keys and checked into our hotel were struggling to keep in touch with relatives who had decided to stay behind.
Reports say that 10,000 people decided to ride out the storm. We do not know what state they are in now.
The first job rescue services will have to do is to test the integrity of the 42 bridges linking the Keys. If one of those is down, it could cause problems because it could strand any one of the islands.
The entire Keys are closed. There is no way of getting in there at the moment while the authorities assess the damage.
How big will the disaster response be?
Power lines came down in 80% of Miami alone and large areas of the city were flooded, although the city appears to have escaped lightly compared to other parts.
Drone footage from Naples, a town on the coast of the Gulf of Mexico about 125 miles (200km) to the north-west, shows rows of shattered suburban homes on streets under water.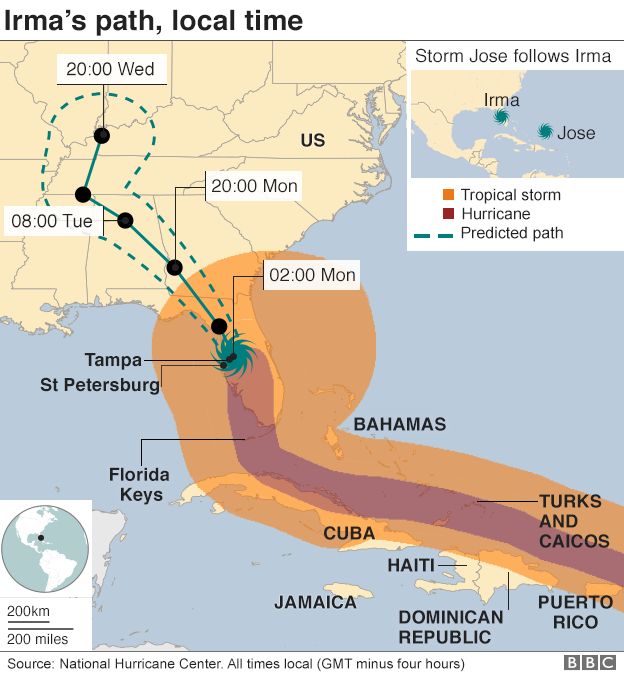 President Donald Trump has approved a major disaster declaration and emergency federal aid for Florida, describing the hurricane as a "big monster".
Funds will be needed to care for victims, clean up debris, restore power, and repair damage to homes and businesses.
Martin Senterfitt, emergency management director for Monroe County (population 73,000), said a huge airborne relief mission mounted by the Air Force and Air National Guard was in the works, the Miami Herald reports.
"Disaster mortuary teams", he said on Sunday afternoon, would be dispatched to the Keys, which are part of Monroe.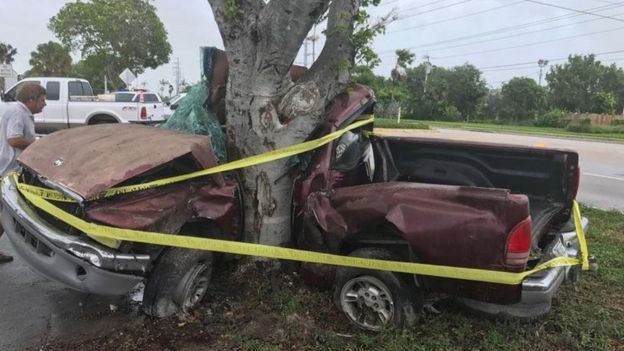 Florida Director of Emergency Management Bryan Koon told reporters the actual physical and human damage could not be ascertained before operations began.
"We will work on those at first light [07:05 local time, 11:05 GMT]," he said. "I don't have any numbers on fatalities at this point."
Where is the storm now?
At 12:00 GMT, the centre of the storm was about 105 miles (170km) north of Tampa, the National Hurricane Center (NHC) said.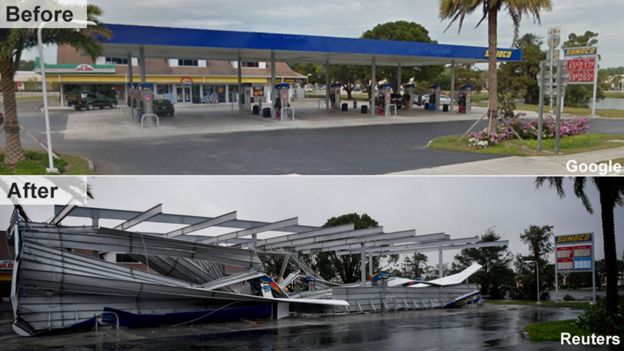 Some three million people live in the Tampa Bay area. The region has not been hit by a major hurricane since 1921.
Irma is expected to weaken into a tropical storm over far northern Florida or southern Georgia later on Monday but first its centre will continue to move over the western Florida peninsula, the NHC said.
Storm surge warnings are in effect for:
The South Santee river southward to Jupiter Inlet
Cape Sable northward to the Ochlockonee river
Irma made landfall on Marco Island off Florida's west coast at 15:35 local time (19:35 GMT) on Sunday, with winds of up to 120mph.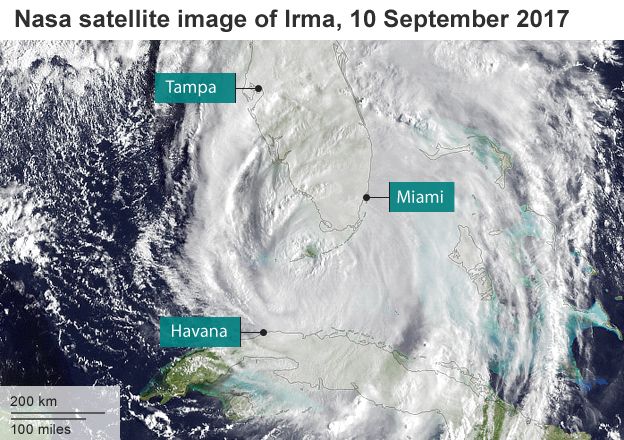 How have residents felt the impact?
"We feel the building swaying all the time," restaurant owner Deme Lomas told Reuters news agency by phone from his 35th-floor apartment in Miami. "It's like being on a ship."
At least four deaths have been connected to the storm:
A police officer working at a hurricane shelter in Hardee County was killed driving home when she collided with another vehicle being driven by a fellow officer, who also died
A person died in a single-car crash in Orange County
A man died in Marathon, Monroe County, on Saturday when his truck hit a tree, the sheriff's office said, adding that it was unknown if the crash had been weather-related or not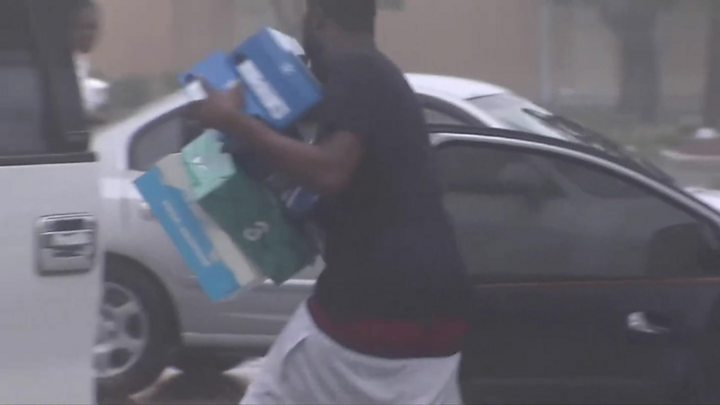 Some 6.3 million people in the state were told to evacuate before Irma arrived.
There is major disruption to transport, with Fort Lauderdale-Hollywood International Airport and Miami International Airport closed for Monday.
Amid fears of debris and reports of looting, curfews have been imposed in areas such as Miami-Dade County.
The deadly danger from Miami's ubiquitous cranes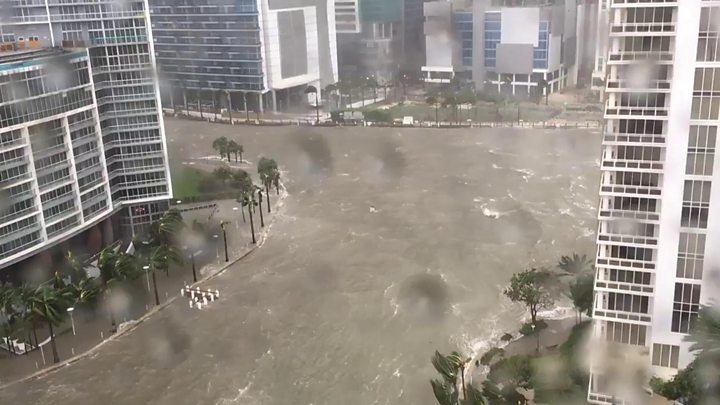 Which areas were hit before Florida?
Irma is the most powerful Atlantic storm in a decade, and has already caused widespread destruction on several Caribbean islands:
Cuba: at least 10 people were killed by the storm on the island, officials say. Electricity is out across the capital, Havana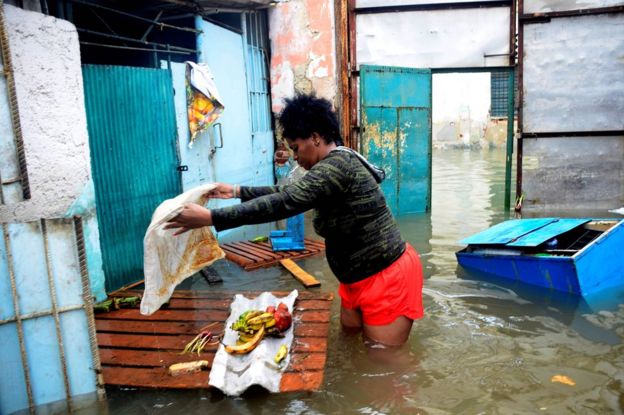 St Martin and St Barthelemy: Six out of 10 homes on St Martin, an island shared between France and the Netherlands, are now uninhabitable, French officials say. They said nine people had died and seven were missing in the French territories, while four are known to have died in Dutch Sint-Maarten
Turks and Caicos Islands: Widespread damage, although extent unclear
Barbuda: The small island is said to be "barely habitable", with 95% of the buildings damaged. Antigua and Barbuda Prime Minister Gaston Browne estimates reconstruction will cost $100m (£80m). One death has been confirmed
Anguilla: Extensive damage with one person confirmed dead
Puerto Rico: More than 6,000 residents of the US territory are in shelters and many more without power. At least three people have died
British Virgin Islands: Widespread damage reported, and five dead
US Virgin Islands: Damage to infrastructure was said to be widespread, with four deaths confirmed
Haiti and the Dominican Republic: Both battered by the storm, but neither had as much damage as initially feared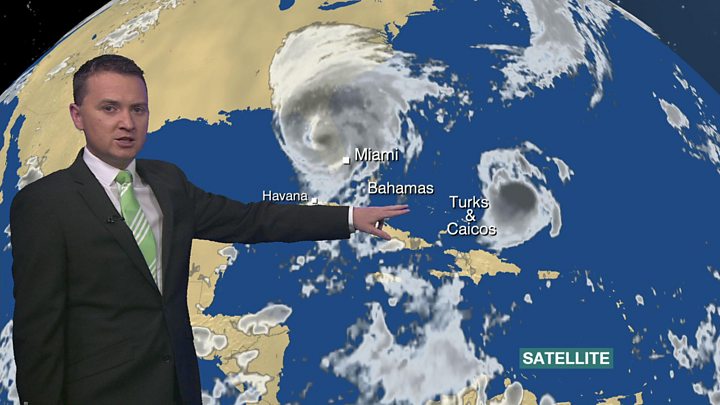 Another hurricane, Jose, has been weakening over the western Atlantic, with swells due to affect parts of Hispaniola (the island split into Haiti and the Dominican Republic), the Bahamas, and the Turks and Caicos Islands, over the next couple of days.